Robert P. Agans, Ph.D.
Dr. Agans is the Research Coordinator for the Center for Health Statistics Research (CHSR) as well as a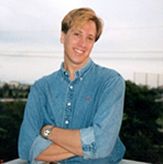 Project Director for the Survey Research Unit, both of which are housed in the Department of Biostatistics at the University of North Carolina at Chapel Hill.

Prior to coming to Chapel Hill, Robert was a Lecturer in Psychology, Statistics, and Communication in the University of Maryland Overseas Program where he taught courses in such places as Korea, Japan, Italy, Iceland, Spain and Bosnia. Before that, Robert completed a post doctorate in epidemiology at the University of Arizona and taught courses in both the Departments of Psychology and Communication.
Robert holds a Ph.D. in Social Psychology from Texas A&M University, a M.A. in Clinical Psychology from West Chester University, and a B.A. in Psychology from Saginaw Valley State University. His general research interests lies in questionnaire design and measurement issues.
His current research deals with Mexican immigrants and the use of cognitive assessment techniques in questionnaire development, which is part of a broader project being funded by the National Center for Health Statistics at the Center for Health Statistics Research. He is also involved in other measurement issues that are common to mail and telephone surveys.
As project director, Robert, oversees surveys conducted at the Survey Research Unit and is involved in proposal preparation, sample design and questionnaire development as well as data collection and analysis. He has secured funding for a number of surveys and has provided methodological expertise on a variety of projects and proposals.