Dr. Adewale Troutman came to Atlanta in 1997 to head what became the Fulton County Department of Health and Wellness through his proactive initiatives in disease prevention and health promotion. He has distinguished himself as a visionary leader in a career marked by a commitment to excellence with† trademarked energy, enthusiasm and creativity.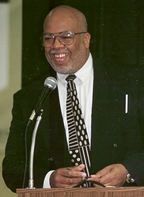 A board certified family physician with thirty years of dedication to community empowerment and self-reliance, Dr. Troutman began his career as an educator and counselor in his native New York. He re-entered the educational arena and earned his medical degree from the New Jersey Medical School.† This medical training, along with a masters degree in Black Studies from the State University of New York at Albany, gave him a unique perspective for addressing the problems of health disparity that continue to plague this nation. He obtained additional training leading to the Masters of Public Health in Policy and Management from Columbia University, making him one of only a few in the nation with the combined educational experience, community orientation and medical background to be in the forefront of developing action-oriented, visionary solutions to the challenges facing public health.

Dr. Troutman served as Medical Director for Emergency Services at United Hospital Medical Center in Newark and as the cityís Medical Director and Acting Health Officer. As a respected member of the Rutgers University faculty, he developed and taught a course on Examining Health Issues in the African American Community. He was also a faculty member at the City College of New York, Nassau and Bronx Community Colleges. He is currently a clinical professor at both the New Jersey Medical School and the Morehouse School of Medicineís Department of Preventive and Community Medicine.

Dr. Troutmanís passion for health issues has taken him across the nation and† abroad to make recommendations for improving the health status of minorities in general and African American men in particular. In addition to a recent† public health mission to Uganda to suggest ways to improve womenís health, he has visited thirteen nations in Subsaharan Africa over the past thirty years, bringing considerable knowledge and experience to bear on international health issues.

Dr. Troutmanís commitment to community service has been recognized by such agencies as the American Cancer Society, the New Jersey Bar the New Jersey Health Consumers, the Student National Medical Association, Concerned Black Nurses and others

.
He chaired the Committee on the State of Black Health in New Jersey and contributed to legislation that created the stateís Office of Minority Health.† He developed the Task Force on Black and Minority Health for the National Conference of Black Mayors which he continues to co-chair.† He is also the founder and chairman of Atlanta Ujima Mission† to Africa, a youth program dedicated to building bridges between African and African American youth and fostering their mutual development.
Dr. Troutman has published numerous articles in a variety of journals and magazines, is an internationally known speaker and consultant, a published poet, accomplished musician and dedicated father.† Most important, his life serves as a model for his mission of human development through motivational leadership, commitment to excellence and integration of mind, body and spirit.
---

Back to the 2002 Videoconference Homepage

Return to the Minority Health Home Page
---