Hortensia Amaro, Ph.D.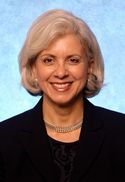 Hortensia Amaro, Ph.D., is Distinguished Professor of Health Sciences at the Bouve College of Health Sciences at Northeastern University. She received her doctoral degree from the University of California at Los Angeles in 1982 and was awarded an Honorary Doctoral Degree in Humane Letters by Simmons College in 1994. Over the last 20 years, Dr. Amaro's work has focused on improving the connections between public health research and public health practice. Her research has resulted in over 65 scientific publications on epidemiological and community-based studies of alcohol and drug use among adolescents and adults; on the effectiveness of HIV/AIDS prevention programs; and on substance abuse and mental health treatment issues for women. She has been the principal investigator and manager of 28 public health research grants totaling over $25 million dollars.
Dr. Amaro developed two national model substance abuse treatment programs targeted to Latina and African American women. One of her community-based interventions with pregnant addicted women, the Mom's Project, received national recognition by U.S. Department of Health and Human Services as part of the Models that Work Campaign to encourage its replication nationwide. The Massachusetts Department of Public Health has recognized her work as the founder of Entre Familia and the Mom's Project has received a Citation from the Governor's Office for its unique contributions to the health of mothers and children. She currently is Principal Investigator and collaborator on numerous research projects including: 1) a national cross-site study of the effectiveness of gender specific substance abuse treatment programs, 2) a national cross-site study on the effectiveness of integrated and trauma informed service delivery model for substance abusing women with mental health disorders, 3) a study of the effectiveness of a gender specific HIV prevention program for Latinas, 4) a study of HIV prevention with African American and Latina women in substance abuse treatment, 5) a population based HIV behavioral indicators research study, 6) a national cross-site study of HIV prevention among racial and ethnic minority populations, and 7) a faculty training program on substance abuse prevention. Her public health research program is staffed by an interdisciplinary team comprised of approximately 40 researchers and intervention staff including psychologists, physicians, nurses, social workers, biostatisticians, epidemiologists, data managers, counselors and support staff.
In 1996, Dr. Amaro was appointed to the Board of the Boston Public Health Commission by Mayor Thomas Menino. She currently serves as vice chair of the Board. She serves as an appointed member of the National Advisory of the National Institute on Drug Abuse. She has served on the editorial board of the American Journal of Public Health, as Associate Editor of the Psychology of Women Quarterly, and on the US Department of Health and Human Services National Advisory Committee on Vital and Health Statistics. She has served on a number of grant review committees and as a consultant for the National Institute on Drug Abuse, National Institute of Child Development, Centers for Disease Control and Prevention, National Center for Health Statistics and several foundations. Her professional contributions have been recognized by numerous professional and government organizations. These awards include: an Honorary Doctoral Degree in Humane Letters from Simmons College; the American Psychological Association's Early Career Award for Contributions to Psychology in the Public Interest; the APA Award for Women's Health Research; the Association of Women in Psychology's Publication Award; the Mass. Public Health Association's Alfred Frechette Award for Contributions to Public Health; the Hispanic Mental Health Professional Association's Rafael Tavares Award for Research, and the Boston Healthy Start Award for Contributions to Maternal and Child Health. She was selected as a Distinguished Visiting Professor in Women's Health at Ben Gurion University in Israel.
---

Back to 2003 Videoconference Homepage

Return to the Minority Health Home Page
---
Minority Health Project| Department of Maternal and Child Health
Campus Box 7445 | UNC School of Public Health | Chapel Hill, NC 27599-7445
Phone 919-843-6758 | Fax 919-966-0458| E-mail Minority_Health@unc.edu