Helen Lettlow, Dr.P.H.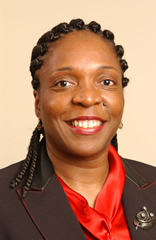 Helen Lettlow, Dr.P.H., Associate Vice President for Program Development, joined the American Legacy Foundation in February, 2000 to direct the Priority Populations Initiative, Legacy's $21 million initiative for addressing health disparities among underserved populations. This cross-cutting effort is central to the foundation's mission and is integrated throughout the organization. Currently she spearheads the foundation's strategies to address health disparities; develop new pilot projects; outreach to national leadership groups; and collaborate with stakeholders. While concurrently leading a major foundation initiative, she acquired her doctorate degree in 2005 from Columbia University's Mailman School of Public Health.
Dr. Lettlow is a health program administrator with more than 20 years of experience working in philanthropic, academic, and community settings. Her professional experiences have been in tobacco control, women's health, HIV/AIDS prevention, and minority health. Throughout her career, she has been primarily interested in socio-economic issues, health policy and health psychology.
As Director of Women's Health at the American Social Health Association, from 1996 - 1999, she directed a research demonstration project aimed at preventing cervical cancer among African American and Hispanic women in North Carolina. She also worked as a grant writer from 1999 - 2000 in the Maternal and Child Health Department at the University of North Carolina at Chapel Hill. During 1998 - 1999 she was the program chair of the Reproductive Health section of the American Public Health Association.
Starting her career in New York, Dr. Lettlow directed the Women's Health Program at the New York State Department of Health, AIDS Institute from 1992 - 1996. Prior to that, she spent four years as Assistant Director of community-based research at the HIV Center for Clinical and Behavioral Studies at Columbia University. She also directed the Family Planning Clinic at Harlem Hospital Center from 1986 - 1988. Dr. Lettlow's main career emphasis has been on health promotion and education for disadvantaged populations and underserved communities.
---
Last updated: 5/16/2006, 6/27/2006 by Vic