Joseph L. Graves, Jr., Ph.D.
Dr. Joseph Graves, Jr. is Professor of Biology and Dean of University Studies at North Carolina A&T State University (link). He received his Ph.D. in Environmental, Evolutionary and Systematic Biology from Wayne State University in 1988. From 1990-2004, he held appointments at the University of California, Irvine; Arizona State University - West with a joint appointment in African American Studies at ASU-Main, and as University Core Director at Fairleigh Dickinson University.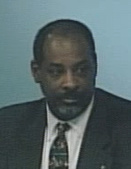 In 1994, Dr. Graves was elected a Fellow of the Council of the American Association for the Advancement of Science (AAAS) for his pioneering work in establishing the genetic and physiological controls of aging. In April 2002, he received the ASU-West award for Scholarly Research and Creative Activity. He has also been Secretary for the Division on Integrating and Comparative Issues in the Society of Integrative and Comparative Biologists, as well as a member of the external advisory board for the National Human Genome Center at Howard University. He has recently been added to the "The New Genetics and the Trans-Atlantic Slave Trade" discussion group, sponsored by the W.E.B. Du Bois Institute at Harvard University, which first convened in January of 2006.
Dr. Graves' research concerns the evolutionary genetics of postponed aging and biological concepts of race in humans. He has been a Principal Investigator on grants from the National Institutes of Health, National Science Foundation and the Arizona Disease Research Commission. He has published over fifty papers and book chapters.
Dr. Graves has appeared on several television programs and in six documentary films (including ones by the KCET Public Television, PBS, and the BBC). He is also the author of two widely-read books on the biology of race: The Emperor's New Clothes: Biological Theories of Race at the Millenium, New Brunswick, NJ, Rutgers University Press, 2001 and 2005 (reviewed in JAMA) and The Race Myth: Why We Pretend Race Exists in America, Dutton Press, 2004, 2005 (study guide at U. Mass Amherst)
Dr. Graves has been a leader in addressing the under representation of minorities in science, directing successful programs in California and Arizona. Finally, he has been an active participant in the struggle to protect and improve the teaching of science in the public schools.
New York Times interview PBS interview 2002 Videoconference presentation
---
Last updated: 3/27/06, 6/21/2006 by Vic