Sharon Fryar Height, B.A.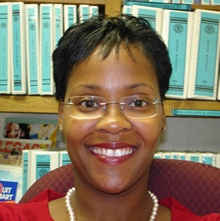 Sharon Fryar Height was born in Sampson County, North Carolina, a region whose rich soil is known for its private and commercial tobacco farms that make up North Carolina's historic "Tobacco Road".
Sharon received her Bachelor of Arts Degree from Bennett College for Women. She returned to her alma mater as Project Director for the Bennett College for Women On the Ground Smoking Cessation & Prevention Project funded by the American Legacy Foundation (link). She has devoted a significant part of her career to sharing the American Legacy Foundation's mission of "building a world where young people reject tobacco and anyone can quit."
Sharon has developed the Sister Chat forum at Bennett College, which has successfully engaged women through the Greater Greensboro area in a meaningful discussion regarding the dangers of tobacco use. The highlight of the program was a presentation by former US Surgeon General Joycelyn Elders, MD.
Sharon is currently studying at North Carolina Agricultural and Technical State University, where she is pursuing an MS degree in Adult Education with a minor in Higher Education.