Annual Minority Health Conference and William T. Small Jr. Keynote Lecture
MSC on Facebook (earlier version)
History of the Caucus and Conference, in video
Minority Student Caucus Alumni Network
To join the Minority Student Caucus listserv send a one-line email to (listserv@unc.edu) with the text:

subscribe minoritycaucus
your-first-name your-last-name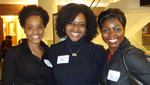 The Minority Student Caucus was founded in 1971 by a group of African American students who gathered in John Hatch's living room. They were troubled by the lack of attention to health disparities (then referred to as minority health), the lack of support for Black students, the near total absence of Blacks on the faculty, and the low representation of ethnic minorities among the students. The Caucus was intended as a vehicle for bringing their concerns to the attention of the School's Administration and for working to attract more Black students to the School. Initially called the Black Student Caucus, in the late 1970s the Caucus changed its name to Minority Student Caucus and welcomed American Indian, Asian American, and Latino students. [Some of the history is recounted in recorded interviews with John Hatch (coming soon), Bill Jenkin (view), Victoria Motley Washington (view), and Geni Eng (coming soon). The Caucus founded its annual Minority Health Conference in 1977 and has conducted it nearly every year since then. The Caucus also works with the School administration on initiatives to link to the Historically Black Colleges and Universities, especially in North Carolina, and to institutions serving other minority groups.
Leadership
The Minority Student Caucus is led by an Executive Board elected annually by all Caucus members. Officers - Co-Presidents, Secretary, and Treasurer - and other E-Board members serve one-year terms.
For its first quarter century, the Caucus received support and advice from William T. Small, Jr. (the Caucus actually played a role in Dean Small's coming to the School as a minority student recruiter in 1971). Following Dean Small's retirement in 1999, Aundra Shields became Assistant Dean for Students and worked with the Caucus. After Aundra's departure, her successors Felicia Mebane and then Charletta Sims-Evans became the Dean's Office advisers to the Caucus. Victor Schoenbach (Department of Epidemiology), who assisted the Minority Health Conference planners beginning in 1991, was invited to serve as faculty adviser to the Caucus in 2005/2006. Chandra Caldwell (Department of Epidemiology), who had informally counseled/advised Caucus members and officers since she joined the Epidemiology staff, was later named a staff adviser to the Caucus.
Elected officers for 2016-2017
Co-Presidents:
April Aviles, Master's Student, Department of Maternal and Child Health


Samuel Baxter, Doctoral Student, Department of Health Policy and Management
Co-chairs for the 38th Annual Minority Health Conference:
Jani Radhakrishnan, Master's Student, Department of Health Behavior and Department of City and Regional Planning


Marisa Martini, Master's Student, Department of Health Behavior
Treasurer:
Michael Harley, BSPH Student, Department of Nutrition
Secretary:
Nikita Wagle, Master's Student, Department of Health Policy and Management
TRIAD Chair:
Ryan Drab, Master's Student, Department of Health Behavior
Education/Community Service Chair:
Zaire Graves, Master's Student, Department of Health Policy and Management
Publicity Co-Chairs:
Kyaw Khant, Master's Student, Department of Health Policy and Management


Alina Clarke, Master's Student, Department of Health Policy and Management
Historian:
Kyle Nisbeth, Master's Student, Department of Health Behavior
Fundraising:
Camille McGirt, Master's Student, Department of Health Behavior
Social:
Stella Clingmon, Master's student, Department of Maternal and Child Health
Links