[page retrieved from the Internet Archive Wayback Machine on 6 Dec 2009;
logo copied from the program archived at the UNC Health Sciences Library]
20th Annual Minority Health Conference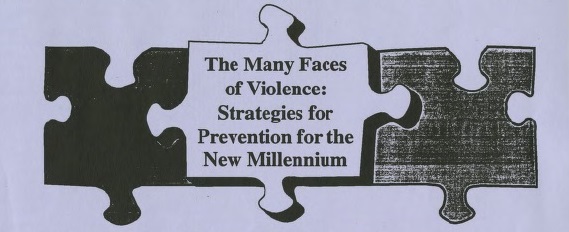 February 19 - 20, 1998
The William and Ida Friday Continuing Education Center
Chapel Hill, North Carolina
Sponsors (to date):
The University of North Carolina at Chapel Hill School of Public Health
Minority Student Caucus
Minority Health Research and Education Center Committee
Center for Distance Learning and Health Communications
Alumni Association
Student Union Board
Cosponsors:
North Carolina Department of Health and Human Services
Office of Minority Health
The University of North Carolina
General Administration
Injury Prevention Research Center
Chancellor's Office
North Carolina Central University Department of Health Education

View the Conference agenda brochure program speakers, participants, exhibitors
---
The Many Faces of Violence: Strategies for Prevention for the New Millennium
Violent and abusive acts negatively affect the physical and mental health of an estimated 2.2 million US residents every year. Among the many types of violent and abusive behaviors reported, suicide and homicide combined account for the fourth leading cause of premature death prior to the age of 65. For example, homicide is the leading cause of death in Black men between the ages of 15 and 34. For these reasons, the multi-causal and multifaceted problem of violence has emerged in the last 15 years as a public health priority, particularly in communities of color where violence is at epidemic proportions.
The 1998 Minority Health Conference will examine the issues of violence that affect our culturally and ethnically diverse communities. Topics will include homicide, suicide, gun/firearm-related deaths, child abuse/neglect, domestic violence, rape and urban and rural youth violence. The Conference's goals are to:
· Present interventions, policies and research that illustrate varied and innovative ways of examining, preventing and reducing violence in communities of color (an evaluation component will be part of these presentations);
· Summarize and disseminate information about violent and abusive behavior within the larger sociopolitical context;
· Provide the opportunity for increased interaction between conference attendees and presenters for the purposes of learning practical applications in preventing community violence.
TARGET AUDIENCE
The conference planning committee encourages participation from diverse settings. Students are especially encouraged to attend and to interact with working professionals in public health, community health, rural health, human services, education and the private sector.
POSTER SESSION
The Minority Health Conference planning committee invites you to participate in the poster presentation. To do so, you must submit an abstract that clearly demonstrates that your topic is timely, significant and relevant to the conference theme. THE ABSTRACT AND THE AUTHOR'S CURRICULUM VITAE MUST BE RECEIVED BY JANUARY 1, 1998.
Guidelines:
· Abstracts must be typed, single-spaced, and should be no longer than one page. The title of the abstract should be centered at the top of the page. The author's name and academic degrees should follow the title. Leave one blank line between the title and the author's name, and two blank lines between the author's name and the first line of the abstract. Use 1.5 inch margins on all four sides. Submit an original of the abstract, typed on bond paper, and one copy.
· Submit one typed cover sheet with the following information: Title of abstract, author's name and academic degrees, author's position/title, a mailing address where participants can obtain more information about your presentation, phone number (including area code), fax number, and e-mail address.
· Send abstracts to: Christie Vann, Office of Continuing Education, School of Public Health, CB#8165, Chapel Hill, NC 27599-8165, Phone: 919-966-4032, Fax: 919-966-5692, e-mail: christie_vann@unc.edu.
To register, complete the registration form on the WWW registration page and click the REGISTER NOW button, OR
Phone 919-966-4032, OR
Fax the registration information on the WWW registration page to 919-966-5692, OR
E-mail the registration information to oce@unc.edu, OR
Mail the registration information to:
Registrar, Office of Continuing Education
Center for Distance Learning and Health Communications
CB# 8165 TTK Building
UNC-CH School of Public Health
Chapel Hill, NC 27599-8165
(NC State Courier 17-61-04)
You will receive written confirmation of your registration. If you have not received a letter seven days prior to the program date, please call 919-966-4032 to check on the status of your registration.
PROGRAM FEE
For working professionals, the conference preregistration fee is $50 (by February 1) and the on-site registration fee is $65. The fee includes program materials and refreshment breaks. Students, UNC system faculty and staff, and senior citizens (over age 60) may attend the program free of charge, but to assist us in our planning we ask that you pre-register by February 1, 1998. Lunch will be available at the Friday Center for a fee.
The conference registration fee is due prior to the conference. Make checks payable to CDLHC. If your agency plans to pay your registration fee, we ask that you send either a purchase order or a personal check and have your agency reimburse you.
CANCELLATIONS/REFUNDS
Full refunds will be issued to individuals who cancel by February 12, 1998. Substitutions from the same agency are allowed at any time with prior notification of the registrar (919-966-4032).
INFORMATION
If you need more information or would like to register yourself or others, call 919-966-4032, fax 919-966-5692, e-mail oce@unc.edu, or visit our Web site at www.sph.unc.edu/cdlhc.
If you would like to receive a brochure or other information about this program, call the Office of Continuing Education at 919-966-4032 or email oce@unc.edu.
Last updated January 23, 1998. becky_hart@unc.edu