A leading public health expert and epidemiologist, Mary E. Northridge, PhD, MPH, is currently Associate Professor of Clinical Sociomedical Sciences at the Mailman School of Public Health at Columbia University. She is also Editor-in-Chief of the American Journal of Public Health (Journal)-- the preeminent peer-reviewed public health journal in the world--and the author or co-author of over 80 articles, book chapters, and editorials.
Dr. Northridge is a graduate of Columbia University (PhD - epidemiology), the University of Medicine and Dentistry of New Jersey/Rutgers University (MPH - environmental health), Morristown Memorial Hospital (MT - medical technology), and the University of Virginia (BA - biochemistry). She began her career at the Harlem Health Promotion Center where she has worked for over a decade. She currently serves as a faculty member and dissertation sponsor for the Urban Planning Program (Director – Dr. Elliott Sclar), a member of the Columbia Center for the Health of Urban Minorities (PI – Dr. Olveen Carrasquillo), and a Co-Investigator for the Legacy/Community Voices Management Team (PI - Dr. Marguerite Ro).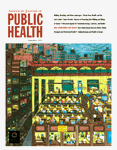 In 1999, Dr. Northridge was named editor-in-chief of the Journal, and thus became the first woman, the first PhD, and the first active researcher to hold this leadership position. She has enriched and diversified the editorial team, which now includes practitioners and researchers from national and international health agencies, academics from various institutions and disciplines, and committed colleagues who cross color lines and national boundaries. In addition, she has actively recruited guest editors to work with her and the formal editorial team to publish landmark issues on underrepresented topics, including Dr. Ilan Meyer for Lesbian, Gay, Bisexual, and Transgender Health, Mr. Michael Bird for Indigenous Health, and Dr. Richard Jackson for Built Environment and Health. Her vision is expressed in the lead editorial for the January 2004 issue devoted to Peace: "If we are to contribute to social change that eliminates health and other inequalities, we need to continue to enlist committed and devoted public health partners inside and outside the health sector to work with us. The Journal is our forum for advancing this cause."
At the Mailman School of Public Health, Dr. Northridge is involved in community-based participatory research on environmental and social determinants of health, scholarly and practical applications of joint urban planning and public health frameworks, and advocacy and teaching around environmental and social justice issues. She is presently working with colleagues at Harlem Hospital Center, Harlem Children's Zone, Inc., and Columbia University on a population-based health intervention entitled, The Harlem Children's Zone Asthma Initiative. Together with her colleague Dr. Elliott Sclar, Dr. Northridge teaches an interdisciplinary course on Urban Environmental Planning: The Basis in Public Health and chairs a university seminar on Urbanism and Public Health.