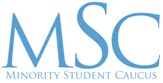 34th Annual Minority Health Conference
Partner Conferences sharing the
15th Annual William T. Small, Jr. Keynote Lecture
by Brian D. Smedley, Ph.D.
(About Dr. Smedley)
Last year student
organizations in the United States and the Caribbean
organized their own events in conjunction with the Annual Minority Health Conference and shared the Internet broadcast of the Keynote Lecture by Brian D. Smedley, Ph.D.. Partner conferences for this year are (to date):
Black Student Health Organization (BSHO) at the Harvard University School of Public Health will host a group viewing and discussion of the 14th Annual William T. Small, Jr. Keynote Lecture.


Black Public Health Student Network (BPHSN Facebook page) at George Washington University School of Public Health and Health Services will host their 4th Annual Minority Health Conference. More information.


Minority Students for the Advancement of Public Health (MSAPH) at the University of Illinois, Chicago are holding their 5th Annual University of Illinois at Chicago (UIC) School of Public Health Minority Health in the Midwest Conference, "Constructing the Foundation for Health Equity" The conference will share the Keynote broadcast and have additional presentations (including submitted abstracts) and discussion. More information


(Your school here.)
The Minority Student Caucus invites your organization to become a broadcast partner.


The 34th Annual Minority Health Conference and the 15th Annual William T. Small, Jr. Keynote Lecture are presented by the UNC Gillings School of Global Public Health Minority Student Caucus [website] in collaboration with
NC Institute for Public Health [website] Office of Continuing Education
UNC Gillings School of Global Public Health Dean's Office [website]

The Internet broadcast of the 15th Annual William T. Small, Jr. Keynote Lecture is presented with the assistance of the School's Minority Health Project [website] in collaboration with the School's Instructional and Information Services Department[website]

More Links