Hon. Donna M. Christensen, M.D.
The Honorable Donna M. Christensen continues to distinguish herself as a leader in the United States Congress. In her fourth term as a member of the House of Representatives, she is the first female physician in the history of the U.S. Congress, the first woman to represent an offshore Territory, and the first woman Delegate from the United States Virgin Islands.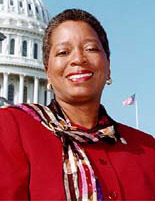 In the 108th Congress, Delegate Christensen is involved in the following House Committees, Subcommittees and Caucuses: Chairs the Congressional Black Caucus' Health Braintrust, which oversees and advocates minority health issues nationally and internationally; is a Member of the House Committee on Small Business' and its Subcommittee on Rural Enterprises; is a Member of the House Committee on Resources and the Ranking Member of its Subcommittee on National Parks and Public Lands; is a Member of the Select House Committee on Homeland Security and its Subcommittees on Emergency Preparedness and Response and Cybersecurity, Science Research and Development; is a Member of the Congressional Black Caucus; Member Congressional Caucus for Women's Issues; Member, Steering Committee, Congressional Travel and Tourism Caucus; Member, Congressional Rural Caucus; Member, Coastal Caucus; Member; Congressional Fire Caucus and additionally, a Member of the Congressional National Guard and Reserve Caucus.
She is the recipient of many honors and awards, especially for her work in health. In recent years she was honored as a "Distinguished Alumna" by the George Washington University, and received The Distinguished Service Award from the Howard University School of Medicine, and an honorary Doctor of Laws from Moravian College in Bethlehem Pennsylvania.
Go to Delegate Christensen's website
Links for participants:


Agenda


Acknowledgements and credits


Attending the conference at UNC-CH


Find a viewing site near you


Participant evaluation


Webcast of the Congressional Minority Caucus Panel
Links for site facilitators:


Register to be a satellite downlink site


Site facilitator information


Attendance sheet for signing-in participants


Color publicity flyer


Site facilitator evaluation

Miscellaneous links:


Previous Videoconferences in this series


Back to the top