Bill Jenkins, PhD, MPH
Bill Jenkins, PhD, MPH is professor of Public Health Sciences at Morehouse College and Associate Director of its Research Center on Health Disparities. Dr. Jenkins instructs medical, graduate, and undergraduate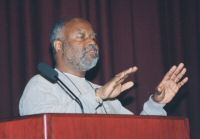 students in biostatistics, epidemiology, and public health at Morehouse School of Medicine (website) and Morehouse College (website). He also consults on the development of Public Health programs at institutions in the Atlanta University Center and other Historically Black Colleges and Universities.
For two decades he served as Supervisory Epidemiologist in the National Center for HIV, STD, and TB Prevention (NCHSTP) at the Centers for Disease Control and Prevention (CDC) and managed its Minority Health Activities Program. He also managed the Participant Health Benefits Program, which assures medical services to the survivors of the Tuskegee Study of Untreated Syphilis in the Negro Male. Dr. Jenkins served as an expert on minority issues in disease transmission, as Chief of the Research and Evaluation Statistics Section in the Division of Sexually Transmitted Diseases Prevention, and as Manager of the National Minority Organizations HIV Prevention Program.
Dr. Jenkins is a member of the American College of Epidemiology (ACE), the American Statistical Association (ASA), and the American Public Health Association (APHA), where he also served on the Governing Council and Executive Board. He was the chair of the Epidemiology Section of ASA, and a member of the Board of Directors of ACE.
Dr. Jenkins obtained his Bachelor's degree in Mathematics from Morehouse College. He holds a Master's degree in Biostatistics from Georgetown University, and both a Master in Public Health degree and a Doctor of Philosophy degree in Epidemiology from the University of North Carolina, Chapel Hill. He has also completed post-doctoral work in Biostatistics at Harvard University School of Public Health.

---
Links for participants:


Agenda


Acknowledgements and credits


Attending the conference at UNC-CH


Find a viewing site near you


Participant evaluation


Webcast of the Congressional Minority Caucus Panel
Links for site facilitators:


Register to be a satellite downlink site


Site facilitator information


Attendance sheet for signing-in participants


Color publicity flyer


Site facilitator evaluation

Miscellaneous links:


Previous Videoconferences in this series


Back to the top