MHP Webcasts
Archived webcasts from previous conferences
Announcements
UNC and NC
National / International

Events
UNC and NC
National / International

Links
UNC and NC
National / International

Reports

MHP Institutes
and
Videoconferences
About the MHP
Receive event
announcements
(maximum: 12/yr)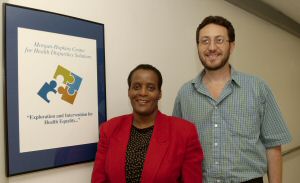 The Morgan-Hopkins Center for Health Disparities Solutions (CHDS) is dedicated to the elimination of disparities in health and health care among racial and ethnic populations, socioeconomic groups and geopolitical categories such as urban, rural, and suburban populations. CHDS conducts multi-disciplinary basic and translational research with the goals of advancing knowledge on the causes of health disparities and developing interventions to eliminate disparities.
The Center is a collaboration between Morgan State University and Johns Hopkins University, with Dorothy Browne, DrPH and Thomas Laveist, PhD, serving as directors, respectively. CHDS brings together the health-research and program development resources of the two Baltimore-based universities to demonstrate the efficacy of public health, social science and medical science in affecting disparities. The Center does this through inter-institutional efforts in research, training and community outreach. The center has a national focus, but much of its work is in the local Baltimore community.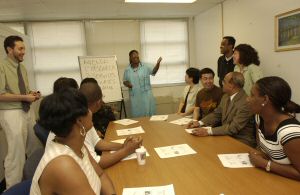 The Morgan-Hopkins Center for Health Disparities Solutions studies leverages the resources of three Morgan State University organizational entities and five Johns Hopkins University entities. The MSU organizational entities are the Drug Abuse Research Program, Prevention Sciences Research Center , Public Health Program, Programs in Social Work and Psychology, and School of Computer , Mathematical and Natural Sciences. The JHU organizational entities are the Sidney Kimmel Comprehensive Cancer Center , Welch Center for Prevention, Epidemiology and Clinical Research, Health Services Research and Development Center , Biostatistics Center and Urban Institute
Established in October 2002, through a grant provided by the National Center for Minority Health and Health Disparities (NCMHD), under the Centers of Excellence in Partnerships for Community Outreach, Research on Health Disparities and Training Program (Project EXPORT), CHDS is designated as a National Comprehensive Center of Excellence in Health Disparities of the National Institutes of Health.
Since 2003, the Center has conducted an in-person Institute in conjunction with the Annual Summer Public Health Research Videoconference on Minority Health. The Center co-presents the Videoconference with the Minority Health Project (UNC at Chapel Hill School of Public Health), which Dr. Browne helped to create in 1994.

Morgan-Hopkins Center for Health Disparities Solutions home page


Previous Institutes and Videoconferences in this series