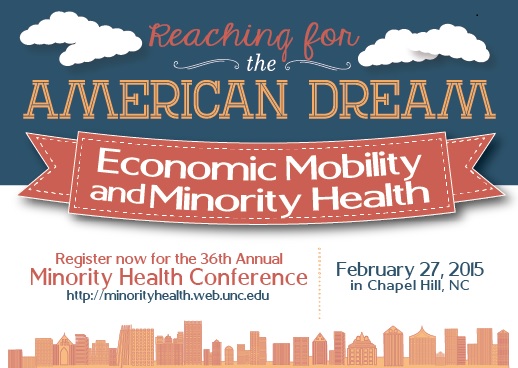 36th Annual
Minority Health
Conference
Conference co-chairs
May Chen, Doctoral student
Elena Rivera, Masters student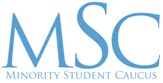 "Reaching for the American Dream: Economic Mobility and Minority Health"
FEATURING

17th Annual William T. Small, Jr. Keynote Lecture
Economic Mobility and Health Disparities: Inequalities by Race, Ethnicity and Class
by William A. ("Sandy") Darity, Jr., PhD

Archived webcast available
February 27, 2015
The William and Ida Friday Center for Continuing Education,
Chapel Hill, NC (directions)
We regret that the Conference was cancelled due to hazardous weather conditions, which forced the University to close until 1pm. However, the webcast was still held and can be viewed here.
William T. Small, Jr. Keynote Lecture will be
webcast
followed by live questions and discussion
"I've only been able to "attend" the webcast of these lectures. Yet, every year the UNC Gillings School of Global Public Health Minority Health Conference webcast and its associated website have been among the most informative and useful events/resources I access during the year." (Alice Furumoto-Dawson, Jan 2006)
Read more webcast viewer comments
"The annual Minority Health Conference is really a phenomenal undertaking, especially coming from an institution that has epitomized excellence in the teaching and practice of epidemiology in the US and beyond." (Anbesaw Selassie, Feb 2008)
Read more webcast viewer comments
from past broadcasts
"Dr Fullilove's inspiring presentation was evidence of his extensive community advocacy. His application of interdisciplinary methods toward solving public health problems resonated with the work that we do at Duke Center for Community Research (DCCR). Unlike other years we did not experience any technical difficulties with the webcast and are most grateful for the UNC conference for continuing these important dialogues." Barbara Gregory, MPH, MA
Read more webcast viewer comments
from past broadcasts
4th Annual Victor J. Schoenbach Keynote Lecture:
Socioeconomic Determinants, the Great Recession, and Health, by Allison Aiello, PhD, MPH
Abstract: The recent nationwide economic downturn has resulted in a disconcerting combination of job losses, decreases in housing and equity values, and a lack of re-employment opportunities. These economic disruptions have become a source of chronic psychosocial stress that has disproportionately impacted socioeconomically disadvantaged populations and minorities. It is well established that individuals exposed to social disadvantage experience a disproportionate burden of illness, disability and mortality associated with a wide range of health outcomes. However, the role the Great Recession had in fueling social health disparities in the US remains unknown and the biologcal mechanisms linking financial stressors with health are poorly understood. Dr. Aiello will discuss her research linking socioeconomic status and associated financial stressors with immune response to infection in diverse US populations. She will also present her findings from the commmunithy-based Detroit Neighborhood Health Study (DNHS), a longtitudinal study that started at the beginning of the Great Recession in 2008 and in one of the cities most profoundly affected by economic downturn. Finally, she will discuss findings from the DNHS in the context of other emerging research on the Great Recession and health outcomes, as well as potential for interventions targeting financial stressors to mitigate health impacts of the Great Recession and reduce socioeconomic health disparities.
The 36th Annual Minority Health Conference is presented by the UNC Gillings School of Global Public Health Minority Student Caucus [website] in collaboration with the
NC Institute for Public Health [website]
Dean's Office [website]

The broadcast of the 17th Annual William T. Small, Jr. Keynote Lecture is presented with the assistance of the Minority Health Project [website] in collaboration with the Department of Instructional and Information Services [website] and produced by O.J. McGhee (award nominations UMA EIM).

More Links