Cynthia Prather, Ph.D.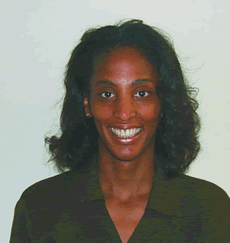 DR. CYNTHIA PRATHER, is a Behavioral Scientist on the Science Application Team (SAT) at the Centers for Disease Control and Prevention in the Division of HIV/AIDS Prevention, National Center for HIV, STD and TB Prevention, Capacity Building Branch.
In her current position, Dr. Prather oversees projects to disseminate HIV Prevention Interventions designed for African American to organizations providing HIV prevention services. In addition, she provides technical assistance to grantees and facilitates linkages with CDC divisions and non-CDC organizations
She served as Acting Team Leader for the Science Application Team where she supervised a staff of behavioral and social scientists, epidemiologists and evaluators who provide consultation and technical assistance to CDC HIV-funded programs, internal projects officers and others in these respective disciplines. She was previously employed at the Substance Abuse and Mental Health Services Administration (SAMHSA), Department of Health and Human Services where she served in various positions, including Senior Public Health Analyst and assistant to the Director of Medical and Clinical Affairs (at the Center for Substance Abuse Prevention-CSAP), assistant to the Associate Administrator for AIDS, and Acting Associate Administrator for AIDS. She has had former experience training youth as AIDS Peer Health Counselors and coordinating AIDS activities at the university level.
Prior to her government service, Dr. Prather served as Research Assistant for the Institute for Urban Affairs and Research in Washington , D.C. where she conducted research on issues related to child abuse and neglect and its relationship to alcohol and other drug use. Dr. Prather has also served as a Research Assistant in the Department of Psychology at Howard University where she investigated issues related to stress, cardiac responses and personality. She supervised students in the physiological laboratory within the Department of Psychology where she studied the effects of social stressors on the cardiovascular system of African Americans.
Dr. Prather is trained as a personality research psychologist and has teaching experience at the university level. Her education has provided her with a vast knowledge of public health issues. She has published and has made paper and poster presentations at various meetings and conferences.
Dr. Prather received her M.S. and Ph.D. in psychology from Howard University in Washington, DC . She received her B.A. in psychology from Spelman College, Atlanta, Georgia.
---
---
Minority Health Project| Department of Epidemiology
UNC Gillings School of Global Public Health
2104D McGavran-Greenberg, CB#7435 | Chapel Hill, NC 27599-7435
Phone 919-966-7436 | Fax 919-966-2089| E-mail
Minority_Health@unc.edu
---