Sela Panapasa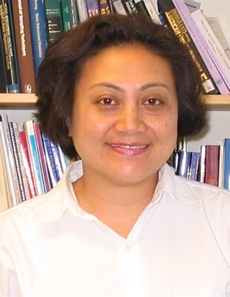 SELA PANAPASA, PhD is a research investigator with the Survey Research Center program on Social Environment & Health, part of the Institute for Social Research (ISR) at the University of Michigan . Dr. Panapasa is a sociologist, trained in demography at the Population Studies and Training Center at Brown University . Since receiving her doctorate, Dr. Panapasa, a native Pacific Islander, has been actively involved in research on the relationship between disability, family support networks and health outcomes. She has worked with several island nations in the Pacific, advising and evaluating censuses and national surveys including Fiji and Tonga . She recently completed the first phase of a US Census Bureau project evaluating the quality of Pacific Islander data from the US 2000 Census.
Dr. Panapasa's research interests have centered on minority health issues with a special emphasis on the elderly in underrepresented populations. Her more recent research has focused specifically on Native Hawaiian Pacific Islander (NHPI) populations in the United States and Pacific basin. She is particularly interested in health disparities between Pacific Islanders in the United States as compared to the Pacific territories of American Samoa and Guam .
Her work has had an ongoing impact in policy development including contributions to the constitutional review process in Fiji where she was part of a research team that provide a demographic overview of the ethnic composition of the country required for establishing electoral districts and parliamentary allocations. Her recent work with the US census will serve as an important foundation for understanding the socioeconomic, disability, migration and demographic patterns of NHPIs. She is currently working with Professor David Williams at the University of Michigan on a project that will provide the first comprehensive set of national indicators on health, morbidity and mortality among NHPI populations in the United States.
---
---
Minority Health Project| Department of Epidemiology
UNC Gillings School of Global Public Health
2104D McGavran-Greenberg, CB#7435 | Chapel Hill, NC 27599-7435
Phone 919-966-7436 | Fax 919-966-2089| E-mail
Minority_Health@unc.edu
---