Claudia R. Baquet, MD, MPH is Associate Dean for Policy and Planning at the University of Maryland Baltimore (UMB) School of Medicine, where she serves as an advocate for quality health care, including issues related to the health needs and models for underserved communities, telemedicine and rural health initiatives. Dr. Baquet also serves as director of the Maryland Area Health Education Center Program (MDAHEC) and director of the UMB organized research center "Center for Health Policy/Health Services Research."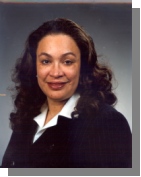 In 2003, she became director of the University of Maryland Comprehensive Center (NIH Export P 60) for Health Disparities Research, Training and Outreach. Dr. Baquet seeks to reduce and eventually eliminate health disparities.
In 2002, Dr. Baquet served as the chair of the Governor's Commission for the Prevention of Infant Mortality and received the Governor's Citation for the reduction of the Maryland infant mortality rate. She was also formally recognized by the Maryland Senate for her work to reduce cancer disparities and most recently for her longstanding commitment to the community. In 2004, Dr. Baquet received the U.S. Department of Health and Human Services "National Best Practice Award" for increasing availability and participation of rural communities in cancer clinical trials. Dr. Baquet's recent awards include NIH's Dr. Martin Luther King, Jr. Special Award for "Closing the Health Gap in the Communities We Serve", the American Public Health Association's 2005 David P. Rall Award for Science and Advocacy in Public Health and the National Medical Association's Council on Concerns for Women Physicians Research Award. In May of 2006, Dr. Baquet received the "Racial Justice Award" from the YWCA of the Greater Baltimore Area. In November 2006, she received the Congressional Recognition Award from the US Congress: Congressman Steny Hoyer, House Majority Leader, for her work in health disparities research and community engagement. In April 2008 she will receive the Prevent Cancer Foundation's prestigious Laurel Award.
Dr. Baquet's research interests include: cancer disparities and intervention research for underserved and rural communities; strategies for increasing access and participation of diverse communities in clinical trials; policy research on assuring equity in quality health care and reimbursement for clinical trials coverage. She brings over $7 million in annual grant funding to the University of Maryland, Baltimore.
Dr. Baquet received her MD in 1977 from Meharry Medical College (Tennessee) and her MPH in epidemiology in 1983 from Johns Hopkins University, School of Hygiene and Public Health. Her residency was in Pathology at St. Louis University and Wadsworth Veterans Administration Hospital. She is committed to mentoring students and health professionals in health disparities research and careers in public health.