17th Annual Summer Public Health Research Videoconference on Minority Health
M. Cookie Newsom, Ph.D.
Director, Diversity Education and Assessment, University of North Carolina at Chapel Hill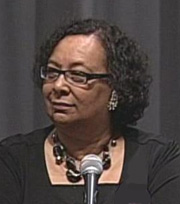 Dr. M. Cookie Newsom holds a BS in Education, a MA in History and a Ph D in Educational Leadership. Her dissertation addressed the achievement gap and was titled "Lessons in Black and White: White teacher questioning practices of black and white students." She was the 2008 recipient of the University Award for the Advancement of Women at the University of North Carolina at Chapel Hill where she currently serves as the Director of Diversity Education and Assessment as well as the Chair of the Black Faculty/Staff Caucus. She previously served as the Director of Student Retention at Clark State College (Ohio) before transitioning to faculty where she was eventually elected chair. She was a research fellow at the Library of Congress for 2002-2003 in the "Cities and Public Spaces in Cultural Context" seminar. She is a diversity consultant, NCBI certified and a graduate of the National Institute for Leadership Development.