Dr. Dina Castro is a Scientist at the FPG Child Development Institute (FPG), University of North Carolina at Chapel Hill. She is a psychologist, with a masters' degree in public health and a PhD in education with an emphasis in early childhood and special education.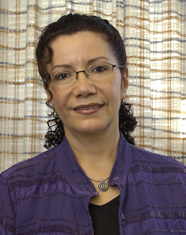 Her more than 25 years of experience working on early childhood development research and intervention extends through the United States and Latin America. Dr. Castro is Principal Investigator for a project funded by the National Institute of Child Health and Development (NICHD) to study the efficacy of a professional development program in improving teaching practices and promoting school readiness among Latino children. She also directs a project funded by the Administration for Children and Families, to study child care choices among low-income Latino families.
Dr. Castro has directed and co-directed various federally funded research studies to examine policies and practices related to addressing the needs of Latino children and families in early childhood programs and to develop and evaluate professional development interventions to promote the implementation of culturally responsive and linguistically appropriate practices in early childhood care and education. She is the lead author of the book "New Voices ~ Nuevas Voces Guide to Cultural and Linguistic Diversity in Early Childhood".
Dr. Castro has been an evaluator for programs supporting dual language development, and academic achievement among minority children and has participated in the development and field-testing of instruments to evaluate the quality of early education and intervention programs. She has conducted research on language development of young children and factors affecting the well-being of Latino immigrant families. In addition to advising the National Task Force on Early Childhood Education for Hispanics and co-chairing the Early Childhood Education SIG of the National Association of Bilingual/Multicultural Education, Dr. Castro has participated in other national and state initiatives aimed at promoting success in school and in life for young children from diverse racial, ethnic, and language backgrounds.