Dr. Reginald ("Reg") Lee Weaver currently serves as vice president of Education International (EI), a 401-member organization representing nearly 30 million teachers and education workers in 172 countries. He travels nationally and internationally, working tirelessly as an ambassador for public education and advocating for the basic right of every student to attend a great public school.
Reg Weaver recently completed two terms as president of the 3.2 million-member National Education Association (NEA) - the nation's largest professional employee organization, and the world's largest democratic, deliberative body.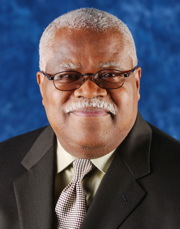 As a middle school science teacher and 30-year classroom veteran, Weaver has been a lifelong advocate for quality public schools. He served as president of the NEA affiliate in Illinois - the Illinois Education Association - and president of his local in Harvey, Illinois - the Harvey Education Association.
In 2006, Weaver delivered a landmark speech while visiting the Lincoln Cathedral in England - home to a very rare copy of the Magna Carta - that was met with widespread acclaim. In recognition of his commitment to democracy and fundamental freedoms, the Cathedral unveiled a stone column in Weaver's name.
He is the recipient of three honorary doctorates recognizing his "world-class leadership in the efforts to educate children," the most recent from Lincoln University in the United Kingdom. North Carolina's Shaw University awarded an honorary Doctor of Humane Letters to Weaver in 2006. He was also conferred with an honorary Doctor of Public Service by South Carolina State University at its 2007 Spring Commencement.
Weaver is a recognized expert on public education issues, serves on numerous boards, has testified before Congress on federal education policy and frequently provides a critical voice on public education for national publications, including The New York Times, USA Today and The Washington Post, along with decision-maker publications, such as Congressional Quarterly, Education Week, and Education Daily. Weaver has regularly appeared on such news programs as CNN "Headline News," C-Span's "Washington Journal," ABC "World News Tonight," and the "Tavis Smiley Show." He has been invited to discuss pressing education issues on National Public Radio's "News & Notes with Ed Gordon," CNN Radio Network, AP Radio Network, and on the radio programs of Michael Baisden, Steve Harvey, Joe Madison, and the Tom Joyner Morning Show, to name a few. He has been a contributor in numerous magazines and professional journals.
He has over several years been named one of Ebony magazine's 100 Most Influential Black Americans for his national influence. Weaver's recent honors include the 2007 MALDEF Excellence in Leadership Award; the 2006 Chairman's Award for Educational Leadership presented by 100 Black Men of America Inc.; and the Congressional Black Caucus Education Braintrust's 2006 Great Points of Light Award. He is the recipient of the 2005 Spirit of Liberty Award presented by People for the American Way as well as the U.S. Hispanic Leadership Institute's 2006 George Meany Latino Leadership Award. Weaver was interviewed by The History Makers in August 2007.
Weaver earned his B.A. degree in special education for the physically challenged from Illinois State University. He received his Masters degree from Roosevelt University in Chicago, Illinois.